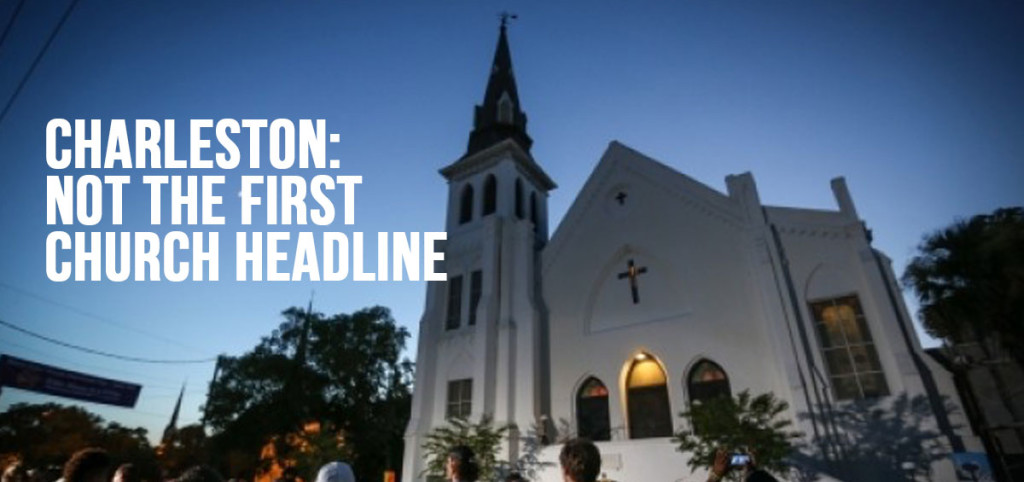 The tragic, violent shooting at the Emmanuel African Methodist Episcopal Church in Charleston last week is the deadliest in quite a long time, and we mourn the loss of the good men and women at the hands of hateful gunman, Dylann Roof.  It has shocked our nation and saddened our hearts.
But it is far from the first church headline.
Believe it or not, church shootings and violence happen frequently, but don't make as big a news splash the way this one did. Maybe you heard about the Connecticut pastor shot while putting out flags for Memorial Day last year, or the Florida couple in a domestic dispute that resulted in a shooting during a worship service in March. There are dozens of others, also.I was a youth pastor at a church that became a national headline 15 years ago. One of our Sunday School teachers admitted to molesting several young children on the church campus. We were all horrified as the truth came out about this young man and his very young, innocent victims. The church did the absolute best they could to love and comfort the victims and their families, but it was too little, too late. The damage had been done.
Like the victims in all these other instances, we were guilty of thinking "that could never happen here." We thought somehow we were immune to this kind of tragedy… That those things happen only in the "big city," or in another, less friendly area. Or something. As a result, we never took any precautions to prevent this horror from happening to children and families. In effect, we let it happen.
The good news is that The Orchard Church isn't guilty of that same mindset. We not only love our children and families, but we are thrilled and awed at the privilege of having them on our campus each week. My good friend, Jon Breshears, who attends our church is a safety consultant. He has already been working with us over the last several months to help us take some positive, preventative steps in these areas. You might know of a few of these, already in place.
We have an armed police officer present for activities and events
We have a single check-in and access point for children's ministry
Video cameras have been installed in each children's venue (with a DVR)
We've cut in new doors for "lockdown mode," so we can isolate and evacuate all children separate from the grownups
All fire extinguishers are strategically located, visible, and up-to-date
Deacons are being trained on basic, church-wide security protocols
We're about to implement a more efficient, secure electronic check-in procedure for Children's Ministry
Jon is forming a "safety team" to be prepared in event of a health or safety emergency
Of course, our goals here are to protect the men, women, and especially the children that God has entrusted us with. Additionally, parents should feel far safer and more secure with these things in place for their children.
We will never be able to fully protect our people against every possible threat, but with Jon, the deacons, and the steps they have been taking, I feel very confident that we are already light years ahead of many other churches when it comes to caring for our folks.
I have been in a church that is a headline. I never, ever want to watch that happen again. Our children are too important. The ministry here is too important. The gospel is too important.