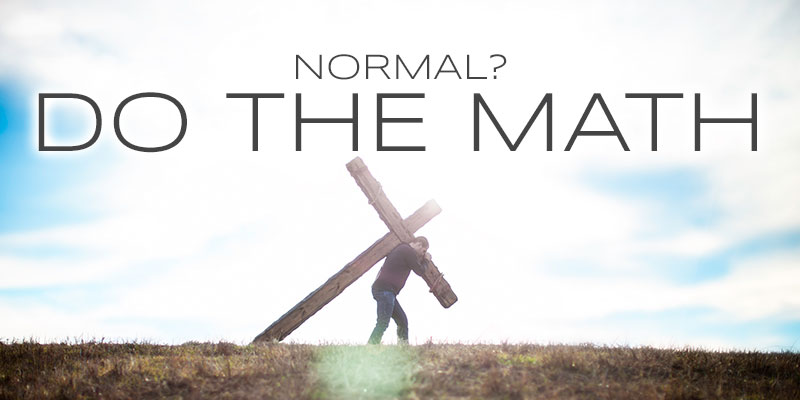 Have you heard the term "work out your salvation?" It means to apply Jesus into your life… To press the Good News of Jesus deeper into your life.
The "average" Christian does this backwards, though. That's what makes us weak and frail. But there is amazing strength in doing this math the right way. Let's discover what that looks like in this episode.
Lifegroup Discussion Questions after the link.
If you are the group's discussion leader, be sure to have everyone open this page on their mobile device.
What are the types of sin that comes to mind when you think of the "big" sins?
What about "little sins?" What do we regard as little ones?
Why do we look at sinning that way?  Does God have "big ones" and "little ones?"  Does he just overlook some, and is He really concerned with other ones?
For everyone has sinned; we all fall short of God's glorious standard  -Romans 3:23 NLT
Last week we talked about how "normals" know something that "averages" don't… What do they know?
We know that our old sinful selves were crucified with Christ so that sin might lose its power in our lives. We are no longer slaves to sin.  -Romans 6:6 NLT
So, now we are called to work that out… To do the math. Here is the verse we are looking at this week:
So you also should consider yourselves to be dead to the power of sin and alive to God through Christ Jesus.  -Romans 6:11 NLT
So here is the big question… If I have a new nature, then why do I still sin?   (discuss as a group)
It has to do with faith
Hebrews 11:1 defines faith as the "confidence that what we hope for will actually happen; it gives us assurance about things we cannot see."
The Greek word for confidence here (translated "assurance, or substance in other translations) is hypostasis. It can literally be translated as "foundation," or "substance."  It is a difficult word, however, because it also carries with it a sense of action and of movement. It means to substantiate what you believe in… It means to actively participate in what you believe to be true, thereby making it real in your life.
It is sort of like the astronauts on the International Space Station, who recently needed a tool to repair a broken piece of equipment on board. The problem is, not only did they not have the tool, but the tool didn't exist. Nobody had ever made this particular repair before.  SO, the engineers at NASA quickly got to work and designed just the tool they needed. Even though nobody had ever seen a tool quite like this one, they knew that if the astronauts had it, they could make the repair they needed to make. After rendering this new tool in their computers, they emailed the design to the space station, where the astronauts used their new 3D printer to manufacture it.  Soon, the repair was made and everything was fully operational!  NASA told the astronauts that this unseen tool would work, so they substantiated it.
That is what it means… It means to take what you know about God's will and His Word, and to implement it into your life!  How does that work specifically for us?  How can we do that this week?
Romans 6:4 NLT
we died and were buried with Christ by baptism. And just as Christ was raised from the dead by the glorious power of the Father, now we also may live new lives.

Romans 6:10 NLT
When he died, he died once to break the power of sin.

Ephesians 2:6 NLT
He raised us from the dead along with Christ and seated us with him in the heavenly realms because we are united with Christ.

2 Corinthians 5:14
Christ's love controls us. Since we believe that Christ died for all, we also believe that we have all died to our old life. He died for everyone so that those who receive his new life will no longer live for themselves. Instead, they will live for Christ, who died and was raised for them.
Here is the good news… These aren't PROMISES of God.  These are the FACTS. They are what we can KNOW to be true.  Not just hope they are true. Not believe that one day we may attain these things. These are God's facts for us.
Yet, we are convinced by Satan's evil arguments otherwise. Why?
When confronted with God's facts, AND the mountain of tangible, contradictory evidence from the world… How should we respond?
2 Corinthians 5:7 NLT
For we live by believing and not by seeing.

Watchman Nee puts it this way:
What God has done in His gracious purpose is to include us in Christ. In dealing with Christ, God has dealt with the Christian; in dealing with the Head, He has dealt with all the members. It is altogether wrong for us to think that we can experience anything of the spiritual life in ourselves merely, and apart from him. God does not intend that we should acquire something exclusively personal in our experience, and He is not willing to effect anything like that for you and me. All the spiritual experience of the Christian is already true in Christ. It has already been experienced by Christ.  What we call "our" experience is only our entering into His history and His experience.
John 15:1-12 NLT
I am the true grapevine, and my Father is the gardener. He cuts off every branch of mine that doesn't produce fruit, and he prunes the branches that do bear fruit so they will produce even more. You have already been pruned and purified by the message I have given you. Remain in me, and I will remain in you. For a branch cannot produce fruit if it is severed from the vine, and you cannot be fruitful unless you remain in me.
"Yes, I am the vine; you are the branches. Those who remain in me, and I in them, will produce much fruit. For apart from me you can do nothing. Anyone who does not remain in me is thrown away like a useless branch and withers. Such branches are gathered into a pile to be burned. But if you remain in me and my words remain in you, you may ask for anything you want, and it will be granted! When you produce much fruit, you are my true disciples. This brings great glory to my Father.
"I have loved you even as the Father has loved me. Remain in my love. When you obey my commandments, you remain in my love, just as I obey my Father's commandments and remain in his love. I have told you these things so that you will be filled with my joy. Yes, your joy will overflow! This is my commandment: Love each other in the same way I have loved you.
Spend a little time discussing how this study is impacting your life.