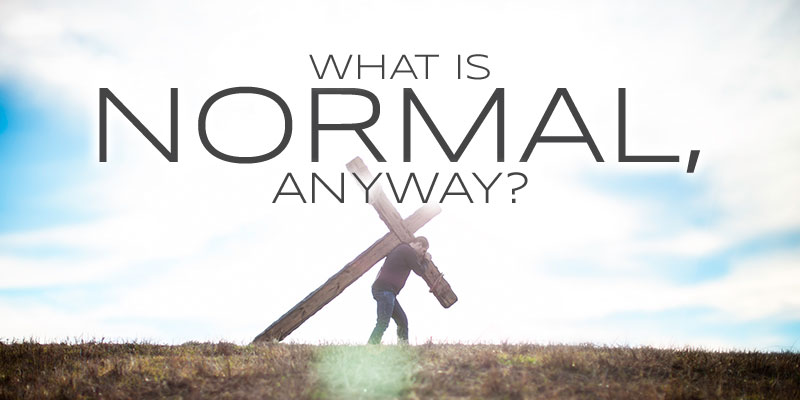 Everyone has their own take on what a "normal" Christian is. Scripture is pretty clear about what that should look like. Do you know if you are a "normal" Christian, or even if you want to be one?  In this new, 5-part message series, we'll explore the Biblical definition of the "normal" Christian, and we'll see how that works out in our lives.
As always, Lifegroup Discussion questions, provided by Lynsie McDaniel, are below the link.
If you're the group's discussion leader, have your group open this page on their mobile devices so everyone can read along together. 
How do you think our popular culture tends to define the "normal Christian?"  (think about the Simpsons, the Big Bang Theory, popular movies and music)
Think back to before this sermon, how would you have defined a normal Christian?
When you think of someone in that definition of "normal," does that person look similar or drastically different than people who are lost?  Did the sermon change your definition of a normal Christian (normal according to what scripture says normal should look like)?
Steve talked in the sermon about how we fall into a place of accepting our sin.  Have you claimed and used as an excuse "God made me with this flaw, sin, or addiction and loves me even if I have it, so it is fine"?  Was there any true freedom or peace in accepting our wrongdoings as just how we are?
So now there is no condemnation for those who belong to Christ Jesus. And because you belong to him, the power of the life-giving Spirit has freed you from the power of sin that leads to death.
-Romans 8:1-2 NLT
Does this verse seem to be leading us into acceptance of sin? Why or why not?
This passage (really this entire chapter) is guiding us to live in freedom because Jesus died to both FORGIVE us from our sins, and to TRANSFORM us into His image! The cross is sufficient to forgive what we have done, AND to change who we are.
On Sunday, we talked about getting out from under the burden of guilt and moving into the new life of Christ instead. No condemnation.
So, how does this work out in our lives? How can each of us live with no condemnation and with freedom?
God doesn't lay out a formula, He doesn't say "If you wash the dishes with out complaining then if you yell later I won't condemn you."  But how do you think our heart needs to be to be open to living in no condemnation and freedom from the law?\
A big piece of this life is believing Jesus to be the way, the only way.
"And you know the way to where I am going." "No, we don't know, Lord," Thomas said. "We have no idea where you are going, so how can we know the way?" Jesus told him, "I am the way, the truth, and the life. No one can come to the Father except through me."
John 14:4-6
Do you have areas where you need to apply this?
How do I get through this pain? Jesus is the way.
How do I make this marriage work? Jesus is the way.
How do I deal with my coworkers? Jesus is the way.
How do I get out of this addiction? Jesus is the way.
Talk as a group about the questions you have and how Jesus can be the way.  When you are in the thick of the hard stuff, it seems too easy of an answer, but when you let others, walking in life with you, look at those questions, some times they can direct you to how Jesus is the way.
Did you make goals this year?  Have you already messed up 2 weeks in?  Have you tried to figure out your plan for doing better?  The cross, being a normal, radical, life changing, Christian means being shaken to the core.  Transformation, not just goal setting.  Not just trying to figure out a game plan of steps we can take, but handing over "us" and accepting and filling up on him.  Trusting God's good, pleasing, and prefect will.
If you have a story or an area in your life that this idea hit you please share it to make this real.  If not I am going to share mine.
The fill in the blanks ""Normal"=No longer I but Christ" hit me hard.  I battle with the sacrifices of being a stay at home mom.  Sometimes it feels like "to much" and it is for me.  But not for Jesus.  I am just here to be the vessel Jesus uses to meet my kids between 7 am and 5:30 PM.  I am not here to be super mom, or have everyone think how together I have it, or how good I am at it.  I am here because Jesus wants my kids to experience His love, His service, His discipline, His grace.  I get to be here and let Him do that through me. I am not Jesus, but I can use every day to point them to Him.  It isn't about me not getting a break, or me being tired, or me, it is about getting joy, freedom, rest, and living in God's good and pleasing and perfect will by being used by Him.  Dieing to myself and letting God live through me.  This is my area where I am going to be seeking God's direction in transforming my life as a Christian.  Where I want to be radically different from non-believers.
Where do you need to let God transform you?  Not where do you need to try harder, but where do you need to hand it all over, prayerfully give it to Him, and simply just trust and follow God?  It might not take you out of a hard situation, it might not look like a  miraculous rescue, but complete trust in God will get us through because Jesus is the way.