<br />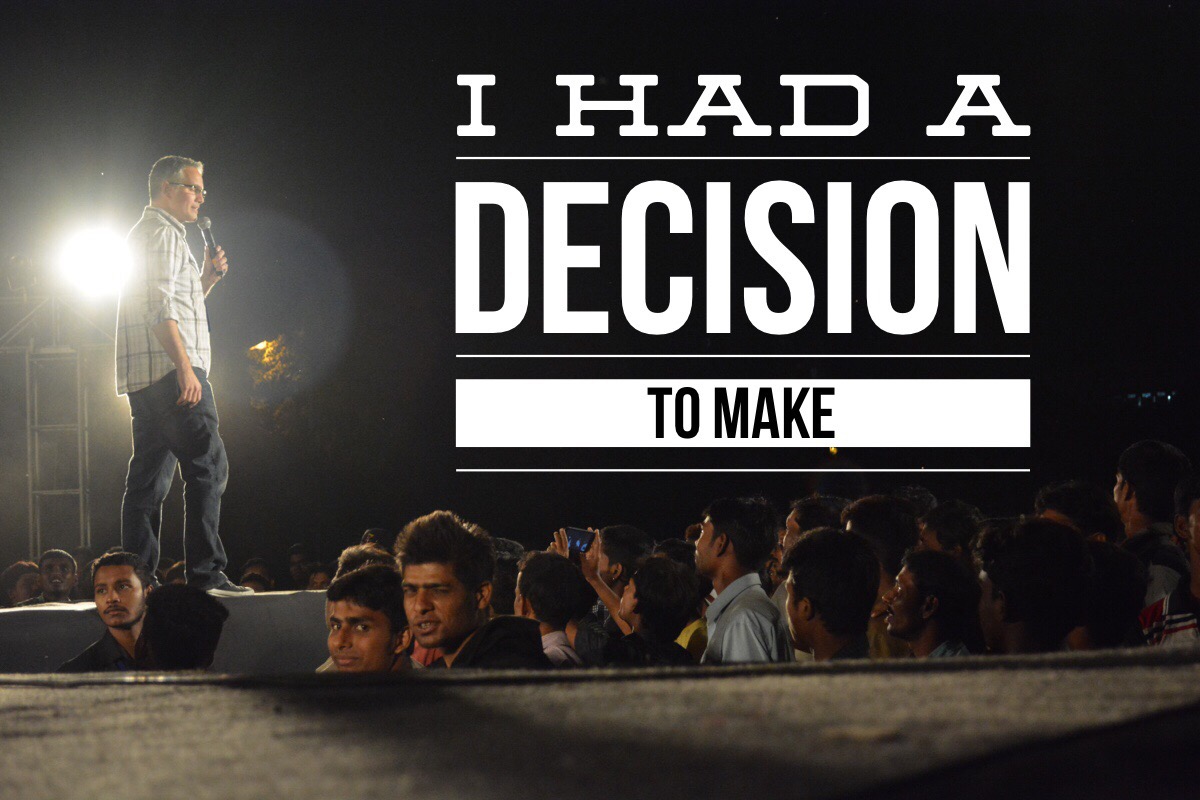 Standing alone on the stage, facing the large crowd, I saw the uniformed police officers line up, making themselves very visible for he first time since the concert started over an hour ago. It is illegal to publicly preach Jesus in this country, so when I saw them, I knew I had a decision to make.
Did I have the courage to present the Good News in the face of danger? I love the gospel.  It is the power of God for salvation to everyone who believes. (Romans 1:16)
Here in India, it is one thing to invite people to Christ in homes throughout the slum. But standing alone with a microphone amplifying my voice so the gospel could be heard for blocks… That could be trouble.
Presenting the Good News is my only job here. I'm touring with Difference United as part of YWAM's Megacities project. 
Our plan was to be part of this project by drawing a crowd with a large, outdoor concert near the city center, and present the clear Gospel message in a compelling way.
We started off with smaller, church concerts, progressing to larger and larger shows, culminating in two really large concerts in downtown Kolkata.
That is where we were on that night. A large, open field packed full of people who had come to hear the show. The band played to that huge crowd pressing in toward the stage. After a while, the music quieted, and it was time for me to do my thing.
I didn't know what might happen. Would the crowd get unruly? Would the police, now suddenly taking this posture, shut us down? Would I be going to jail tonight? Is this really the right thing to be doing?
Prayerfully, I opened my mouth and spoke the truth about God's holiness, our sinfulness and separation, his love and grace, and Jesus' forgiveness.
I spoke through a translator, uncertain if I was connecting to them or not. They all seemed to be paying close attention, but I couldn't tell if they were really tuned in, or if they were just watching the white guy talking nonsense.
I walked through the sinner's prayer with them, and asked all who had prayed to raise their hands. I was shocked to look across the crowd and see a seemingly uncountable number of hands waving at me. God had just moved. There was a lump in my throat. I have given the gospel message literally hundreds of times, but I had never, ever been used by God to win this many.
Everyone agreed that the night was a huge success, and we praised the Lord for opening so many hearts. 
Oh, the police officers were very nice to me after the concert. I went out and gave each of them a CD from the band, and thanked them for their help.  They each shook my hand, looked me in the eye, and smiled. 
Check out concert video And pictures on Difference United's Facebook page.