In describing our story of "standing together and fighting together for the faith," we are clearly called to be generous in our giving.  Yet, this seems to be a touchy subject in church.  We can talk about lots of things, but talking about money really changes things.  Why is that?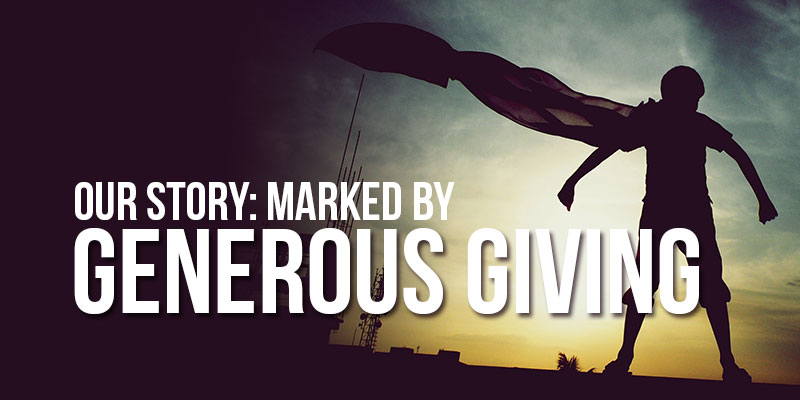 Lifegroup Discussion Questions after the break –>
If you are the leader, have everyone in your group open this page on their mobile device and follow along.  Allow others in your group to read questions and verses aloud. Remind them that we are discussing this week's message, and that they can always prepare ahead of time by listening to the podcast at the link above.
Do you think giving is a sensitive issue in church? Why or why not?
Steve's assertion on Sunday was that we are sensitive because we are the "rich man." How does that hit you?  Do we tend to see ourselves as "rich?"
only 8% of people in the world drive a car

The global median income is $1225/year

780 MILLION people do not have access to clean drinking water.
So, how should this affect our thinking about what God has allowed us to have?
Give, and you will receive. Your gift will return to you in full—pressed down, shaken together to make room for more, running over, and poured into your lap. The amount you give will determine the amount you get back.  -Luke 6:38
What does this statement mean?  Have you seen this to be true? Why or why not?
How does Jesus describe the relationship of the master and his servants in the following parable?
We make it so easy to be faithful in this area at The Orchard.  You can always automate this important act by setting up an account on our GIVING page.
 Don't be misled—you cannot mock the justice of God. You will always harvest what you plant. Those who live only to satisfy their own sinful nature will harvest decay and death from that sinful nature. But those who live to please the Spirit will harvest everlasting life from the Spirit. So let's not get tired of doing what is good. At just the right time we will reap a harvest of blessing if we don't give up. Therefore, whenever we have the opportunity, we should do good to everyone—especially to those in the family of faith.  -Galatians 6:7-10
Other than automating your giving, what are some other ways you can practice faithfulness in this area?  How will that faithfulness change you?