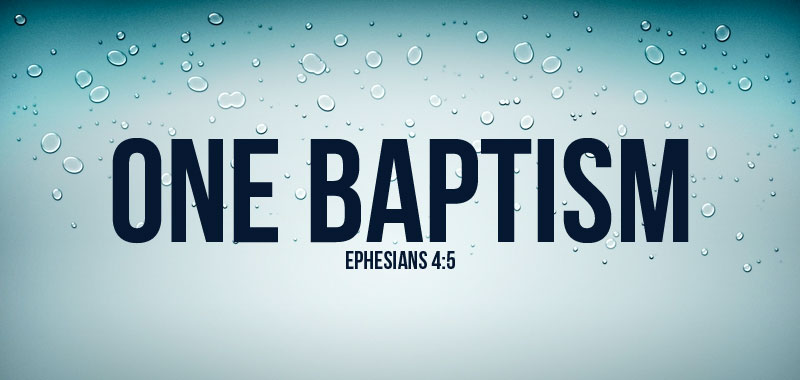 This post is a follow up to Sunday's message, "One Baptism," which is part 6 of our "One" message series.  If you didn't hear the message, you can listen at the link below.  You can also subscribe to our weekly podcast episodes via our iTunes link, or use whichever podcast download method you choose. 
Re-read the text for our current message series: Ephesians 4:1-6.
The passage is an encouragement for us to "live worthy."  So, what is the main focus for us in these verses?
How many times does the word "one" occur in this passage?  How many times in verses 5 and 6?
Is this important?  Why or why not?
ON Sunday, we talked about our "one baptism." (4:5)  I talked about how we get caught up in the "picture," and we forget the "relationship."   What does this mean, and how does it apply to us?
The Roman Catholic Church, and several protestant denominations teach that baptism is necessary for salvation.
Luther's Small Catechism:
[Baptism] works forgiveness of sins, delivers from death and the devil, and gives everlasting salvation to all who believe, as the word and promise of God declare.
—The Book of Concord, trans. and ed. Theodore G. Tappert (Philadelphia: Fortress Press, 1959), 348–349.

The Augsburg Confession:
It is taught that Baptism is necessary and that grace is offered through it. Children, too, should be baptized, for in Baptism are committed to God and are acceptable to him.
-Ibid, 33
So, that isn't what we teach… Right?
So, what do we do with verses like these?
John 3:5
Acts 2:38
Acts 22:16
1 Peter 3:21
Improperly understood, it seems you can use these verses to make a Biblical case for baptism salvation theology. Clearly, however, we believe that there is something much bigger than "getting dunked" at work here.
First, Scripture is very clear that we are justified by faith in Christ's sacrifice on the cross alone.  No question about that at all.  Even Old Testament believers were justified by faith and faith alone.
Romans 4:3
Romans 5:1
Galatians 3:8
Ephesians 2:8-9 (one of my favorite passages!)
So, we look through the lens of God's grace when we look at these other, more "controversial" scriptures (as mentioned above.)  We understand Jesus' words in John 3:5 ("born of water") to be a common phrase meaning to be physically born.
The other verses (Acts 2, Acts 22, and 1 Peter 3) cause us to have to think a little bit deeper.  It makes us think about what the nature of salvation really is.  Remember, salvation is both an event, and a process.  It is made up of both justification, which is completely by faith and done at the cross, and there is also sanctification, which is a faith partnership between us and God… It is His ongoing work of salvation in our lives as we "work out our salvation."  (Philippians 2:12)
Having this multi-faceted understanding of Biblical salvation allows us to see baptism as part of our salvation… It is a component of our sanctification, but not part of our justification.  Because of that, it allows us to look at the broader definition of baptism, being "plunged into Christ," as opposed to the simple "picture" of being dunked under water.  (I tried really hard to explain that clearly on Sunday morning.)  So, when Peter says "Baptism… now saves you, not as a removal of dirt from the body but as an appeal to God for a good conscience, through the resurrection of Jesus Christ,"  We can understand that our Baptism CAN be key to our salvation (sanctification) as a response (or appeal) to God for a good conscience.  This is a great description of an obedient Christian in the sanctification process!
So, have you taken the step of believer's baptism in your life?  If not, what is holding you back?
You can hear Sunday's message here, which I'm sure will make this all even more confusing.  What do you think?  Hit me up in the comments or shoot me an email!  I want to hear your thoughts.
Podcast: Play in new window | Download